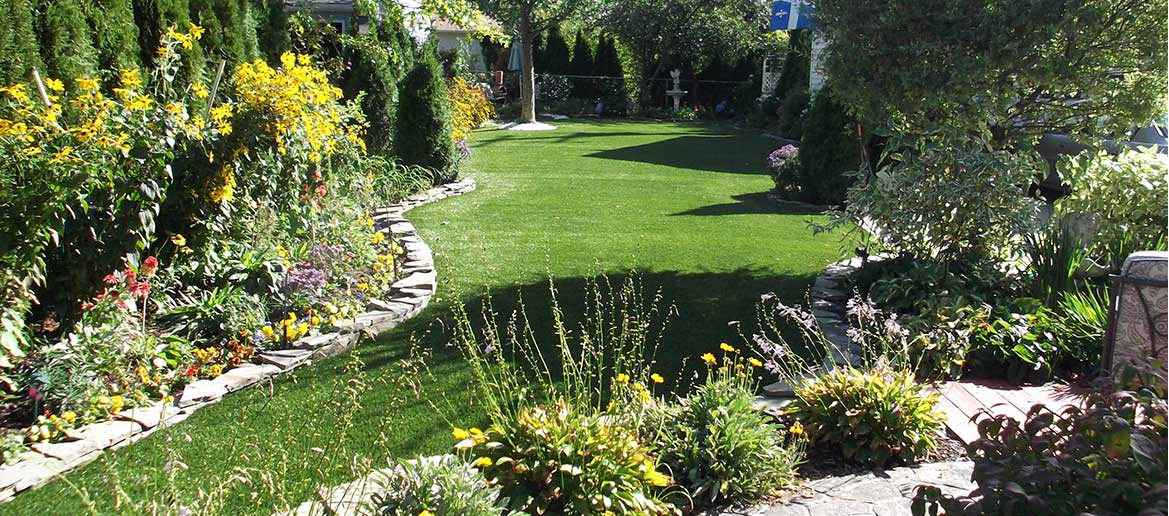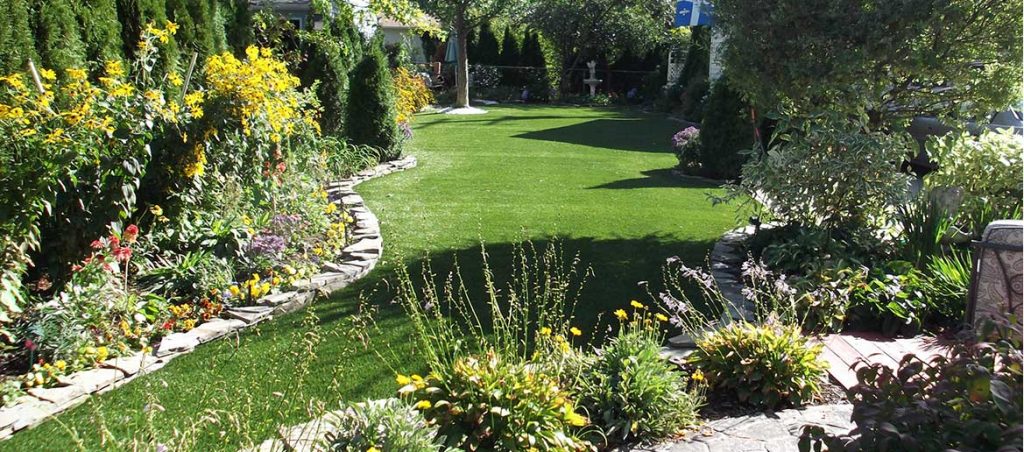 Growing up I remember going to my grandparents house; they lived in a retirement community where the yards upon yards of synthetic turf were legendary. Back then the synthetic turf was not the wonderful sensory experience we have today. Modern artificial grass has a hyper realistic look and feel. Back then it was a monstrosity of unattractive and unnatural green that was scratchy and abrasive, leaving you worse for wear for having played on it.
The draw to fake grass has always been the little to no maintenance, water savings -while providing a thriving lawn appearance.
The fake grass from years gone by was always hard and unyielding to a laughable extent. Now in today's modern synthetic turf world the comfort of the user is taken into consideration with a better weaving system to provide a realistic look and texture, lush softness and increased durability. Additional benefits are found with an underlay for the synthetic turf that provides better impact absorption in high play areas as well as providing a much more efficient way of handling rain runoff and water drainage.
The new technology in fake grass manufacturing also provides bladed grass of varying lengths that assist with the lifelike look and feel. Additionally with the bladed grass of today's synthetic turf it performs better at trapping dust to keep it off you, your family and your pets.
How durable is today's artificial grass as compared to the old fake grass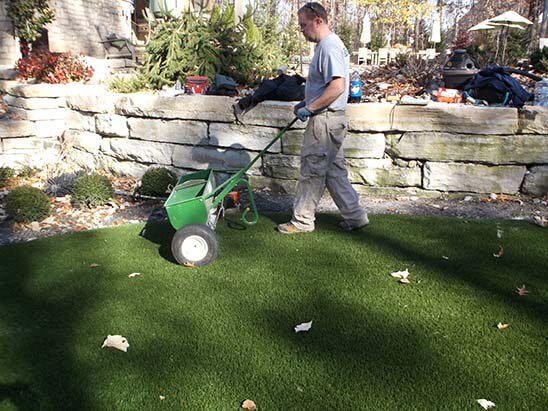 Back in high school at one of the larger schools in the region we had multiple teams competing for gym time; so regularly the school would rent space for the sports teams to rotate through, One of the nearby churches had an interior room outfitted with the indoor / outdoor fake grass. Playing any type of sport on this would absolutely rough up your skin, leaving you with unparalleled road rash – though in hindsight a road might have been kinder!
Back then we were constantly warned about preserving the synthetic grass on that indoor field but even through standard normal play the fake grass of yesteryear didn't hold up. The improved designs of Southwest Greens is designed to be extremely durable in comparison. No matter what type of sport you are looking to play on the new modern artificial grass you are guaranteed a much better experience. Today's synthetic turf performs better overall with added benefits of improved fall / impact absorption and protection as well as a reduction in trip zones.
The synthetic turf today is designed with lasting durability in mind. If properly maintained the new fake grass you install now with Southwest Greens Ohio will last you upwards of 20 + years.
The artificial grass of today's cooling effect
Innovation with the synthetic turf didn't just stop with the look, tactile feel for today's modern lawns, improvements have also been made to with the overall cooling effect of when installing fake grass. The old school version of synthetic turfs didn't efficiently handle heat well, often trapping it to make the surface hotter than pavement. The modern artificial grass offered today by Southwest Greens Ohio performs well through Ohio's wide range of weather. Our grass performs well with a porous underlay and fiber weave that offsets the heat of Ohio's summer. You will find that our grass often runs cooler than the ambient temperatures of other surfaces due to the breathability of our fake grass allowing the heat to disperse rather than accumulate.
Used by Architects & Landscapers alike for aesthetics and durability, low maintenance for a quick complete and total transformative effect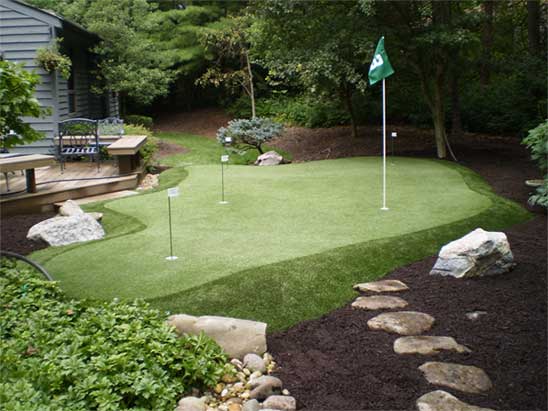 Southwest Greens Ohio artificial grass is used by Architects and Landscapers alike for its aesthetic beauty, durability and performance. Professionals know that installing up a fake grass lawn from Southwest Greens Ohio provides endless hours of enjoyment with very little maintenance, long term savings on water consumption found with traditional lawns.
Additionally transforming the land or city scape with a quick, and total makeover by installing fake grass for all varieties and ranges of use.  
Southwest Greens Ohio where our grass is always greener!
Thankfully we have options now in the synthetic grass market, at Southwest Greens Ohio we offer beautifully realistic synthetic grass with a range of natural shades that enhance any given area.  The synthetic grass is soft and lush with realistic. Our custom designs are tailored specifically for you, with your discerning taste and requirements forefront in mind. Our design team will help you every step of the way in selecting cut, color and various options designed with your specific requirements in mind. Regardless if your project is more of a multi-use lawn or has a specific use such as a pet grass lawn or synthetic playground turf or even a sports turf or golf green – we have options for you that will have you loving your space.
Let us help you design the right look and feel that's built to endure the test of time and happy feet. Helping you to make memories to last a lifetime.
Southwest Greens Ohio fake grass is clean, durable, reliable and functional while being lush and green year round. It's ready when you are for whatever entertainment adventure you have planned.
Our clients use their synthetic lawns for:
Golf Putting Greens
Pet Grass
Sport Turf
Playground Turf

Picnics

Outdoor movie night

Sleeping under the stars

Tag

Outdoor bowling

Obstacle courses

Soccer

Badminton

Volleyball

Tennis

Baseball

Meditation

Yoga

Lounging

Relaxing

And so much more!
Low Maintenance, Durable, Safe, 100% recyclable, Made in the USA.
If you would like to learn more about having a modern artificial grass installed at your home or commercial space, send us an email and take advantage of our free design consultation.