If you are looking to beautify your Columbus, OH outdoor space, you might be considering a traditional sod lawn or perhaps you are entertaining the idea of installing artificial grass. In this blog post we hope to explore both options for you. As we do we will directly identify the pros and cons of each; so that you can make an informed decision for what best suits your needs.
Installation Costs
While initially artificial grass will require a larger investment upfront when compared to a traditional sod lawn, once installed, artificial grass requires very minimal upkeep with little to no cost. All while providing you with a beautiful yet durable lawn all year around.
And with a traditional sod installation, once the sod is laid you must maintain it constantly. Water, fertilizing, re-seeding, weeding, cutting, winterizing, etc. taking precious hours away from enjoying your outdoor space with your family and friends.
And another cost to consider as part of the installation process, is that the area to be covered will need to be shaped first, with the ground being excavated and or leveled. This is optional for sod but would be a requirement for artificial grass turf to allow a base layer to be installed first.
So as you may have already guessed, the initial investment for artificial grass turf is more expensive up front. However, for the overall costs, you must also consider the ongoing expenses for upkeep and maintenance in time, money and equipment – this is truly where artificial grass starts to shine.
Maintenance & Upkeep
A traditional sod turf requires continual maintenance with watering, trimming/mowing, weeding, insect prevention/control, winterizing and more. Whereas artificial grass turf does not require these ongoing expenses, or gear such as lawn mowers, edgers, weeders etc. And artificial turf does not require regular investments of your time to stay on top of the maintenance and upkeep that is required for traditional lawns.
Durability
Hands down you will get more durability from the artificial grass turf installation. These types of lawns last upwards of 15-25 years. Where as with sod you have to do the regular maintenance, upkeep and reseeding the lawn; otherwise your investment will not come back after going through die off and its dormancy cycle during the long winter months.
Environmental Impact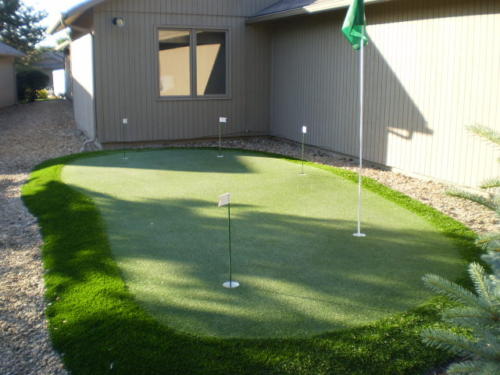 Pollutants:
Environmentally speaking, summer temperatures highlight an important difference between the two types of turf. Traditional sod grass allows for a cooling effect and oxygenation of the air, but you have to weigh the cost of pollutants to maintain it, which will impact and offset some of the benefits. Artificial grass turf, depending on the type installed, can have a cool tech solution and while it won't oxygenate the air, it mitigates the need of fertilizers, weed killer and bug sprays often used for traditional lawns. Additionally, traditional sod lawns provide a natural filter for rain with the primary drawback being a need for fertilizer and insect control. The environmental impact is detrimental as these chemicals are pollutants. In comparison artificial turf allows for drainage and its runoff will be free of chemicals. Additionally, the artificial turf is recyclable at the end of its life cycle.
Maintaining a traditional sod lawn typically has a homeowner working with gas powered equipment. Mowing lawns takes fuel and with 50 million plus Americans mowing traditional lawns that results in just under a billion gallons of petrol used annually. Not to mention the statistics provided by the United States Environmental Protection Agency with findings of an estimated 17 million gallons of fuel are accidentally spilled as Americans are trying to fuel up gas powered equipment. Further, the United States Environmental Protection Agency reports that unregulated emissions of lawn mowers can put out as much air pollution as 43 new cars being driven 10,000-12,000 miles each!
Water usage:
Traditional lawns usually require supplemental watering and can account for thousands of gallons of water each year. This is not the case with artificial grass turfs; saving you time, money AND water!
Allergies:
Traditional sod grass is filled with allergens to those sensitive to it. Artificial grass turf doesn't produce any pollen or skin irritants.
Conclusion
In today's fast paced world an installation of artificial grass whether it be for a putting green, playground or dog run; will keep your entertainment areas looking wonderful for many years down the road – all while saving you from the expenses and hassles that come with a traditional lawn. To receive a free consultation or quote on artificial grass installation, please send us a note here or call us at (614) 761-7888